ART BY ARNOLDO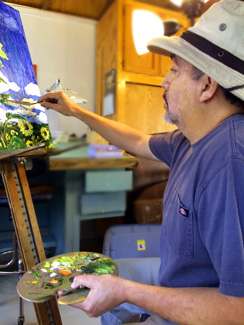 I was raised in the Fresno Valley, the 9th child out of 12. We grew up in a little house in the orange orchards, 6 girls and 6 boys. Money was tight growing up and my brothers and sisters and I learned to build and create to entertain ourselves. I remember in elementary school drawing pictures of cars and trucks and selling them to my classmates for 10 cents apiece.

As the years have gone by, I enjoy going to the outdoors and taking pictures of different sceneries, and ruins, and bringing them home to paint the images on canvas. I plan on painting a series of historical buildings and sceneries in the surrounding cities, including my home town of Fair Oaks, CA, since 2000. I will also be doing portraits in pencil of people and pets, and other art pieces by commission.

I hope that you will stay tuned to this website where I will have originals and prints of my work for sale and I look forward to hearing from you. Art has always been a part of my life and now I would like to share it with you.
— Arnoldo Ramirez